Birth to 3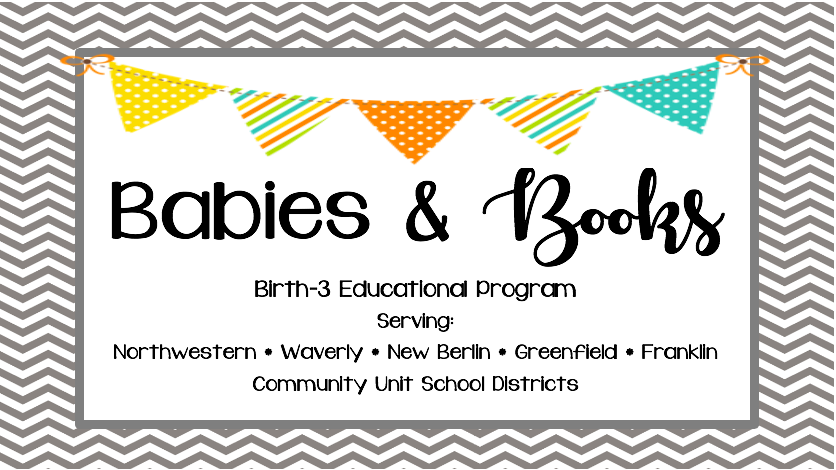 Program Mission Statement,
Overview, & Values
Mission Statement
The Program is committed to babies, toddlers and families. We value the caregiver's relationship with the child/children and are honored to come alongside to support their knowledge, skills and abilities as they interact with and raise their families.
Overview
The Babies & Books Birth-3 Program is an Illinois State Board of Education funded Prevention Initiative Program that is FREE to all families. Each location provides their area with a home visitor/parent educator. Home visitors gain initial contact with each family, setting up screenings and assessments set forth by the Baby TALK curriculum model. Based on qualifications during screening and assessment, our program provides services only to those most at risk within the district – whether those needs are socio-economical, developmental, health, etc. Each home visitor will contact their families bi-weekly each month. Visitors will provide FREE monthly books and activities to increase the quality of parent/child interactions.
Our Program Values
By using the Baby TALK Curriculum, it is our hope to come alongside you and provide additional support to your family as you parent your child. Baby TALK's goal is to provide age appropriate fun activities for you and your child, provide information on parenting skills and child development, conduct developmental screenings and provide family support and information about community services and resources.
Together we will:
Observe and discuss ways for you and your child to interact to strengthen your relationship

Discuss parenting issues

Observe and discuss your child's growth and development

Set Goals for you and your family
If you are interested in becoming a part of our program, please contact one of our Parent Educators in your area.
Northwestern Waverly/Franklin
Denise Joiner Jessie Davis
Program Supervisor (217) 652-9091
(217) 436-2442 ext. 1252
Greenfield New Berlin
Beth Kinser Maureen Bossert
(217) 473-2224 (217) 341-9672